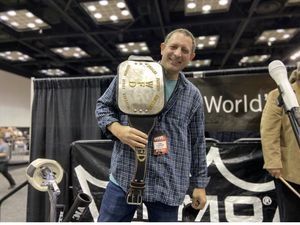 My Philosophy 
Student Spotlights 
Being a percussionist in this modern era requires an accumulation of many skills on varying 
instruments. My philosophy is to provide percussion students with a strong foundation in each area of percussion. My goal it to make you an independent musician who can go into any performance situation and be successful. I can't stress enough the importance of having a well-rounded percussion education. The more aspects of percussion you are more familiar with, the more marketable you will be once you are ready to perform in ensembles outside the school setting. 
My teaching approach had gained the attention of Oxford University Press and they have published my book, Modern Etudes and Studies for the Total Percussionist. It is now being sold internationally! My teaching approach is laid back and fun. Yet, I set achievable expectations designed to take you to the next level. 
Percussive Arts Society PASIC, 2021 3rd place for fastest feet! (Indianapolis, IN)
Lessons: College and Adult 
Many college students come to me for lessons on  instruments that they don't get to study at their college/ university. Mostly, jazz vibraphone, steel pan, world percussion, (congas/djembe) and computer music. We often discuss music business and career planning  as well. 
Over the past few years I have had an influx of adult students come to me for steel pan lessons. Some are music teachers but some have been adults who love the music of the islands and finally have time to learn an instrument. 
Lessons: High School and Middle School 
My total percussion approach to teaching lends itself to college  audition preparation, Region and All State preparation and advanced ensemble placement with in student's schools. Have successfully and consistently placed students in Region ensembles but the truth is that it is up to the student to set them on a course for success. 
Lessons: Elementary 
I love working with beginning students. I get to start them off with the correct technique and introduce them to the awesome world of percussion. If you look around my site you will find many opportunities for the developing percussionist to participate in. 
Instruments: 
Snare Drum 
Drum Set 
Marimba 
Timpani 
Traps 
World Percussion 
Jazz Vibraphone 
Congas 
Djembe 
Concepts: 
Playing musically 
Phrasing 
4 way Independence 
Sight Reading 
Improvisation 
Odd Times 
Chart Reading 
Computer Music 
Music Theory 
Composition 
and so much more!